Small Business Marketing Tips And Strategies That Work!
(Click on the arrow and watch the short video below)

ATTENTION

Small Business Owner:
Want to sell more this year?
Want more new customers from your website?
Want to increase the effectiveness of your sales presentations?
Want a higher ROI from your advertising?
Want your current customers to refer you more often?
If the answer is YES…please keep reading.
When it comes to SMALL BUSINESS  MARKETING, Hal Coleman cuts to the chase like a razor-sharp Samurai sword through warm butter!
Hal's no nonsense, tell-it-like-it-is, straight-forward, no-holds-barred, kick-butt style is not only compelling, engaging and entertaining…but he will CHANGE THE WAY YOU SELL FOREVER!
Hal Coleman's "Thirty Second Selling" method is as close to the perfect selling technique as you can get!
Sales and Marketing Strategist Hal Coleman delivers dynamite coaching and presentations that interrupt and reorient the status-quo thinking that has been holding sales people hostage for years.
"If you're selling based on OLD SCIENCE…you're missing out on lots of NEW SALES…and that's a FACT. The old way simply takes too long.  In today's world, you've got to be able to cut to the chase!"    Hal Coleman
Hal is an expert on BUYER BEHAVIORS and the real reasons behind WHY people make buying decisions.
Click here to view Hal's DVDs Audio CDs
His knowledge, combined with his unique brand of salty down-home humor, and no-nonsense  style,  is easy to understand and simple to follow…and IT WORKS!
Give your SALES and your BUSINESS a SWIFT KICK in the RIGHT DIRECTION!

Learn the POWER of INFLUENCE and PERSUASION for ANY SALES OCCASION.

LAUGH and LEARN all at the same time.
Plus…if you are a small business owner…you absolutely must read Hal's Networking book (see below)!
>The
Networking

Ninja

- "How to get More New Customers and Tons More Referrals by Becoming a Master Networker and Communicator in your Business Community!"
(To order the book, click on shopping cart button below)
In this book you will learn:
How to develop a killer elevator speech!
How to use your business card to generate more cash!
How to convert total strangers into lifetime referral partners!
How to build an unmistakable brand FAST!
How to always be in the right place at the right time!
Plus a lot more…
WARNING: This book is very frank and straight forward. It will offend some people and make some people mad. It is only for those small business owners who are serious about wanting to grow their businesses. In this book, I tell it like it is. I hold nothing back.
Order this book today and start growing your business! Click on the button to order. $19.95 (includes S&H!)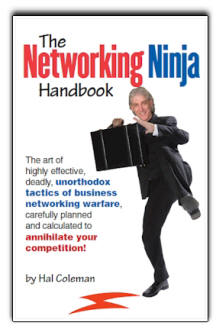 Here's what people have to say about Hal Coleman… 
 (Feel free to contact any of them) 
Consulting/Training/Coaching
"I started working with Hal in April, 2014 and it has been a great learning experience!  I am always looking forward to the next session…..because I know it will be a shot of energy! If you want to increase your sales, call Hal.  Much appreciated. Thanks Hal."     Mike Reed, Rhino Hide, LLC, Eaton Park, Fla.  O. 863-665-0203
"I have worked with Hal for only four hours of time so far and already it has paid off.  He has me thinking in a whole different way. After our first meeting I put two of his ideas into place.  Four days later I had a lady call our office and thank me for what we had done for her and turns out she was the person that handles the purchasing for her company and it turned into a $20,000.00 sale and new account. The thing about working with Hal is that if you listen and take good notes you will have all the tools you need to be successful. He presents selling in such a way that you can't help but see why it works. It definitely will change the way you sell.  I'm a customer for life!"  Chris Schneider – Turf Gator Lawn & Pest, Lebanon, Illinois – 618-233-7600
"Hal, with much consideration, contemplation and consummation of what entered my brain today, I can't thank you enough for your time and knowledge in giving us the tools to become successful. I absolutely will look at my approach differently and for the better. I look forward to working with you in the future. I very much appreciate your no nonsense and honest approach in helping folks realize just a better way to communicate. You're a gem of a gentleman, and I thank you." J. Deron Lewis – Rhinohide, LLC – Lakeland, Fla. 866-347-4466
"I booked one day of coaching with Hal Coleman and I can honestly say that I got my money's worth during the very first hour we spent together.  I received so much powerful and useful information that I was blown away by it.  He certainly lived up to his reputation of over-delivering on everything he promises.  I would tell you that, if you want to learn how to get more new customers and grow your business, you need to book a day with Hal.  It'll be a day you'll never forget.  I can tell you right now that I will be spending more time with Hal in the future!"  
 Mark Hunter – President, Landmark Pest  and Wildlife Solutions, Macon, Ga.  478-972-4357
 "Hal Coleman taught me how to generate leads, referrals and new business by using his networking strategies and it has been worth a fortune to me over the past 12 years. If you listen to Hal, you will learn how to easily grow your business." 
 Mike Stewart – SoundPages.com – Internet Marketer – Gainesville, Ga.    770-888-2276 
"Hal Coleman told me to put a simple sign on the side of my vehicle….and exactly what it should say…..and I did it.  And it works.  I get new sales because of the message on the side of my vehicle.  Thanks Hal!"
 Lisa Smith – Sales, Greater North Fulton Chamber of Commerce, Alpharetta, Ga.  ,770-993-8806   ext. 305
  "I was having a slow year and decided to advertise in a local community magazine.  Hal Coleman told me 5 things to do to my ad that would cause people to call me.  At first, I thought it was pretty outrageous stuff.  It went totally against what other advertising agents had told me.  But, I listened to Hal and designed my ad according to his instructions.  Well, all I can say is…..I got slammed with so much business I couldn't handle it all.  We were working 7 days a week for awhile, just from calls coming in from that one ad.  If you listen to Hal and do what he says, you will get more customers. (This is not the first time I have used Hal as a consultant, and it has paid off every time!)"  
 David Garland – President, Garland Services, Inc, .Douglasville, Ga.        678-414-7798 
  "This past year we hired Hal Coleman to teach our service professionals a simple strategy for generating leads from total strangers on the street, and additional referrals from our current customers.   Over the next 60 days, using his technique, we generated 300 new sales, which resulted in over $80,000.00 in additional income.  Thanks Hal!" 
 Greg Vines – Vice President, Allgood Pest Solutions, Dublin, Ga.,     478-272-6271 
 "Hal, You may remember that Dena and I attended your seminar last fall.  And, we invited you to our company to do a management session recently. I greatly appreciate your continuing efforts to help us.  Every dollar I have spent on your advice has been an incredible bargain for us.  And, I have used lots of consultants over the years.  I will be in touch for future help and advice." 
  Jeff Annis – Advanced  Services, Inc.- Augusta, GA.- Martinez, GA., Aiken, SC        706-860-0116  
  "After attending one of Hal's seminars, I made one change in the signage on the side of my truck and the new business I got as a result more than paid for the cost of the seminar.  His stuff works." 
 Manuel Snipes – President, Azalea City Exterminating – Valdosta, Ga.       229-241-9372 
 "This past year I hired Hal Coleman to coach me on how to market my pest control company.  I'll have to admit, I thought he was a little crazy at first.  But I did what he told me to do, and it has led to new sales and new customers, just like he said it would.   If you want to know how to get more new customers for your pest control business, you definitely need to get Hal into your office ASAP and let him show you how. I will definitely be using his services again!
  Fred Talley, Faith Pest Control, Talking Rock, Ga. 770-823-9202
Speaking/Entertaining
 If you're tired of the same ole stuff and want to be educated, inspired, uplifted and entertained at the same time, you need to talk to your association and get them to book Hal Coleman for your next conference.  Your people will not only thank you, but they will insist that you bring him back again!
 He is funny, talented and GUARANTEED to entertain and educate your audience. Nobody falls asleep when Hal Coleman is on stage!
 "Hal is an incredibly talented speaker and entertainer. His insights into the industry are unique and he has a way of connecting with his audience that not only educates them, but leaves them entertained, motivated and uplifted.  I would highly recommend Hal as a speaker for your next conference or keynoter at your banquet or convention."
 Valera Jessee, Executive Director, The Georgia Pest Control Association, 

Valera@GPCA.org

, 770-417-1881
 "Hal delivered an outstanding keynote speech that far exceeded our expectations.  Everyone raved about his wit, humor, and down-to-earth presentation style.  Hal kept the audience fully engaged and his message was very thought provoking.  We feel confident that his practical insights will add great value to what we do."
  Craig Goodwin, Director, Learning Solutions, Technical, Rollins, Inc.,  

cgoodwin@rollins.com

.   404-877-4600
 "Hal Coleman will certainly leave your audience quenching for more.  He is a marketing guru.  The strategies and techniques he teaches are so easy to understand and follow. You leave thinking, 'Now why didn't I think of that?'  I would highly recommend him as a speaker.  You will laugh a lot and learn a lot at the same time. He is great."
 "I have heard Hal Coleman speak on several occasions and I would highly recommend him for your next conference or convention.  His knowledge of the industry and his unique, humorous approach add up to a fun and entertaining presentation.  In addition, you will come away with very good information."
 Eunice Hall, Senior Sales Specialist, Dow Agrisciences, 770-592-2193
 Book Hal Coleman to speak at your next banquet, convention or luncheon, or arrange to have him come into your office and show you and your sales team how to generate more referrals, close more deals and get more new customers……GUARANTEED!
 

To contact Hal or to book him for an event, call 770-993-0004 or email Hal@HalColeman.com

Click on the menu tabs at the top of this page to find out more about Hal Coleman and how he can help YOU increase your sales and grow your business!

Click here to view Hal's DVDs Audio CDs